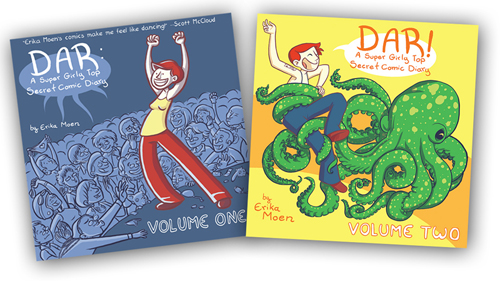 DAR! Volumes One and Two — Available for Sale!
DAR!
chronicles the six year long autobiographical story of Erika Moen, a lost 20-year-old lesbian artist-wannabe in college who falls in love with a boy in England and the evolution that her sexual identity undergoes before winding up marrying him as a queer 26-year-old full-time cartoonist. Along the way there are many vignettes about sex, farts, the queer community, the Brits, vibrators and figuring out sexual identity.
MATURE CONTENT. For readers 18 years old and older.
Booth books are:
-8.5″ × 8.5″
-Soft cover
-Square bound
-Black and white interior
Volume One:
-105 pages
-Strips from 2006-2008
-4 page original story
-Bonus Content
Volume Two:
-136 pages
-Introduction by Dylan Meconis
-Strips from 2009 and 2003-2005
-12 brand new comics
-Bonus Content